Welcome to our new blog web site, here you will find interesting information and answers to questions you may have about Honda of Pasadena and the Honda product.  We invite you to take part in our discussions and provide us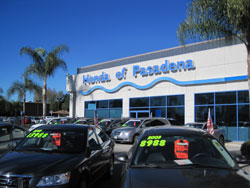 with feedback on how were doing.
We want our blog to be a place to engage and exchange ideas with our customers.  We want to hear from you about your experience with Honda of Pasadena whether good, or bad.  We hope to bring you interesting information that you will find helpful in either choosing I Honda vehicle or choosing to do business with our dealership.  Here you'll find videos showing features of the Honda vehicles along with answers to some of the most common questions we get.  Honda of Pasadena welcomes your input in our quest to provide our customers with the highest level of customer satisfaction and service.
This blog site will be our hub for communicating with you the user and our customer.  We really do want to build your trust in our dealership and help you get the most out of your Honda vehicle.  We understand when it comes to purchasing a vehicle new or used you have a number of choices in the Pasadena area.  This is why our commitment to providing you with better and friendlier customer service along with a car buying experience you'll talk about for years.
To stay up-to-date on articles, videos and all other information posted on our blog we invite you to follow us by connecting with us on a number of social media websites.  You can get frequent updates about new content on Twitter & Facebook. We look forward to providing you with great information and really look forward to hearing your comments.