Hybrid vehicles are becoming more popular as gas prices steadily increase and the negative effects of pollution are being felt around the globe.
Honda Motor Corporation has a diverse line of hybrid cars that offer the dependability of Honda with the versatility and environmentally conscious design of a hybrid.
The
Civic Sedan Hybrid
is the flagship vehicle of the
Honda hybrids
rated at approximately 44 MPG on the highway and features a state of the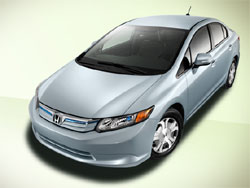 art safety system to keep all passengers as safe as possible. This hybrid system offers "Eco Assist" which allows the driver to monitor and boost efficiency. At the push of a button, the "ECON" switch forces the engine to run as efficiently as possible which automatically increases mileage.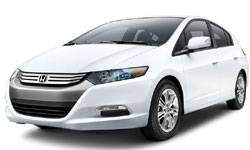 The
Honda Insight
has one of the lowest base prices for a hybrid but continues to have a number of the same features as the other
Honda hybrids
such as Eco Assist and an ECON button. The Eco Assist includes a beautiful Multi-Informational Display that illustrates current consumption and provides the operator with all the information necessary while driving. The Insight has a distinguishable exterior design and a very spacious interior capacity for its size and provides everything expected in a Honda.
One of the most unique
Honda hybrids
is the
CR-Z Sport
which offers the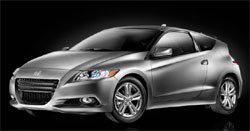 look and feel of a sports coupe without an increased fuel consumption. This vehicle is the first of its class to provide a 6-speed transmission and a unique 3-mode driving system which allows the user to choose between "sport", "normal" and "ECON," each of which differently effects how the CR-Z performs. This feature expands the versatility of the vehicle by allowing one to either harness the full range of performance or operate in a more fuel-conserving fashion. With this model it is no longer necessary to choose between power and fuel efficiency because the CR-Z Hybrid provides both.
If more information or a test drive is desired,
Honda of Pasadena
has all of these hybrid cars available, so stop by to take a closer look at these progressive and environmentally friendly vehicles.