This year's
Honda Civic Tour
, which is actually the tenth anniversary tour, will feature the hit band Blink 182, the band that started the tour back in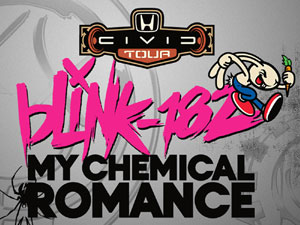 2001. They are also going to bring another popular band, My Chemical Romance, along for the ride.
The Honda Civic Tour is an annual concert tour sponsored by Honda, with the goal of bringing hit up-and-coming bands to fans across the United States. While Blink 182 is no longer an "up-and-coming" band, it is still a hit, and this anniversary tour is a way to nod back to the band that started it all and made the program such a success. Along with My Chemical Romance, they promise great, unforgettable concerts.
As for the Civic, Blink 182 has designed one special Civic Si with their own personal touches that is sure to make a statement wherever it goes. Honda will give away this one of a kind Civic to one lucky fan. You don't have to buy anything to enter the sweepstakes, just go the the Tour's website at
http://civictour.honda.com/sweepstakes/
and enter your information for a chance to win. You can also see what the car looks like on the Sweepstakes tab of the website, as well as check out what concerts will be near you and buy tickets for them on the Tickets and Dates tab of the website. You know you would love an opportunity to see these two great bands together and to win a free, one of a kind car.