Honda–The Top-Picked Minivan
Honda's Odyssey was the best minivan choice among such top competitors as Toyota's Sienna, Nissan's Quest and Chrysler's Town and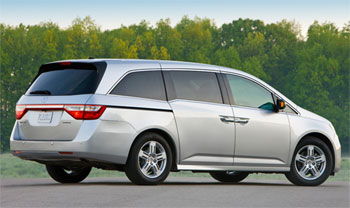 Country Limited. Honda's minivan is the largest capacity of it's class seating eight passengers. The Honda Odyssey had the best gas mileage with combined 22 mpg and 25.9 mpg highway tests. It handled the best too. The outboard seats in it's second row are said to be the most comfortable as well as expanding to fit three car seats!
Amenities of the Honda Odyssey minivan include a huge 16.2 video screen in its second row with HDMI input. A blind spot monitoring system and leather trin add to its richness. It boasts heated front and second row seats and a heated steering wheel. The third row has a power folding feature along with tailgate seating.
The price of a loaded Honda Odyssey at Honda of Pasadena is lower than you think!
The Honda minivan is building a new love for the minivan. The baby boomers are purchasing them to accommodate grandchildren and for the extra cargo room. The younger generation, grown tired from the sport utility crowd might just opt for the purchase of vans again.
Test drive the Odyssey today at Honda of Pasadena, serving all of the greater Los Angeles Area. With a great selection and low prices you can bet We have what your looking for!