All New Honda Civic for 2012
With an extremely low base price at $15,800, the new Eco Assist feature to save on gas mileage, a completely remodeled high-tech interior design with intelligent multi-information display, and all the safety features a consumer is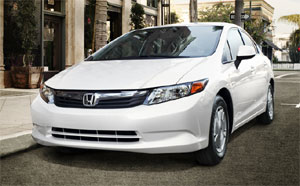 looking for the 2012 Honda Civic is a car all drivers are giving rave reviews about. When purchasing at Honda of Pasadena, drivers will find the best rates on their all new 2012 Honda Civic, and get the most re-designed interior features, which is probably the most upgraded feature in the new civic.
The Civic Interior
The new Civic's interior allows drivers to get personal with the new technological features which the 2012 model introduces. The civic offers an all new intelligent multi-information display (i-MID), which displays on an LCD monitor all important aspects of drive-related information. Drivers can view current songs playing, the current mpg they are getting at the speeds being traveled, they can get turn by turn directions, fuel gauge, and all other aspects related to the driving and road conditions. The system also features a Bluetooth Handsfree link, allowing drivers to make calls, or listen to messages, without having to take their hands off the wheel.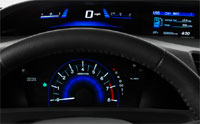 The new Civic has also added new safety features which consumers are raving about. The vehicle stability assist helps a driver sense over or under steer, and will adjust brake pressure to reduce the engine power, and help give the driver back control of the vehicle in a tight situation. The new model also features a standard 4-wheel ABS system, allowing for better control in bumper to bumper traffic, and when a driver comes upon a sudden stop, the car quickly responds. Standard airbags have also been added for additional safety, along with side curtain airbags for passenger safety.
Redesigned Look
Customers are also loving the redesigned exterior of the 2012 civic, offering a sportier look, but still is that recognizable civic sedan. The new model also offers four, rather than two doors, and additional features like 16" alloy wheels, Honda has really made the Civic a much more stylish model than previous year's models. The 2012 civic also offers much greater mpg than previous models, getting 38 mpg on the highway, and 29 mpg in city driving. The improved fuel efficiency also comes with a "greener," engine, and the civic can be purchased as a partial zero-emission vehicle, making for cleaner driving conditions.
Overall, consumers are loving the re-vamped exterior, luxurious interior features which have been added, including the i-MID system, and the overall improved safety, and fuel economy the new 2012 Honda Civic has given. So, if you are ready for the all new 2012 civic, stop in at Honda of Pasadena, for the best customer service you are looking for, and the ultimate new driving machine, still offering that great civic which Honda drivers have come to love.