The JD Power auto ratings are out, and the Honda rating was the highest ever. The brand came in second place. This ranking included all brands of cars, even luxury ones. In fact they beat their sister brand, the high end Acura,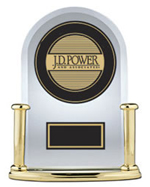 which finished third.
In addition to the second place finish overall, seven of their cars were the top model in their category. In one category, the compact crossover SUV, Honda took the top two spots. The brands finishing in first include the Civic in the sub compact division, the Element in the compact crossover SUV division (followed closely by the CRV), Hondas most popular model, the Accord in the midsize car division, the Accord Crosstour in the midsize crossover SUV division, the Ridge Line in the midsize pickup division, the Insight Hybrid in the compact car division and the FIT in the sub compact car division. Except for the Insight Hybrid and the FIT, all of these cars are manufactured in North America using both parts from the continent and from throughout the world.
The JD Power auto ratings have been around since 1987. The company surveys new owners to evaluate the quality of their car in the first 90 days of ownership. While this is the highest Honda rating ever, it should be noted the Honda consistently performs very well on this survey.
Right now Honda of Pasadena is offering low financing rates on all the top Honda models.