The 2012 Honda CR-V concept has been released and will be for sale at the end of the year. You will have a chance to see it before it hits the show rooms in November at the Los Angeles Auto show. The Honda CRV went public on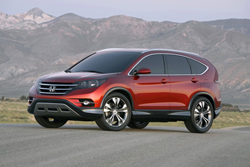 September 22, as it was displayed at the Orange County International Auto Show. The CR-V has been one of the best selling SUVs in United States and this will be the same case with the 2012 model.
The 2012 Honda CR-V has several innovative features incorporated into it. It offers better fuel economy as compared to the previous versions. The new engine has been designed to be more fuel-efficient, along with a reduced body weight. Drivers will find it more comfortable with more space inside.
The Honda has added more features to the CR-V. The front bumper has multi-reflector headlights that light up the way for you at night. It has smooth lines that have a 3-bar grille. This is to enhance protection of the bumper. This version of the Honda CRV has great speed owing to the great improvement on aerodynamics. This has been achieved by having the lower front bumper integrate better with the fascia. The fascia is bolder than the previous models. The lower front bumper has also been designed to portray an awesome approach angle. It has been wrapped upwards in a sleek way to showcase the SUV capability of the 2010 version.
This CR-V has large alloy wheels that enhance this Honda's road capability and balance. The vertical back taillights are just like in the previous versions but the 2012 is designed in a more 3-dimensional way.
This model is expected to out sell previous models have been selling at record speed. The 2011 model was ranked among the best quality SUVs and the 2012 version is bound to perform better as it is an improvement over the 2011 version. The market is expected to increase in the Pasadena and Los Angeles area as more Honda shoppers find the CR-V a great value.
As one of the higher volume Honda dealers in the greater Los Angeles area, Honda of Pasadena can't wait to offer the new Honda CRV to our customers. Stay up to date with current news and availability by subscribing to our newsletter and clicking the "Like" button on Facebook.