Honda of Pasadena has partnered with Spark of Love for the Pasadena Toy Drive this 2011 holiday season. We are pleased to announce that you can share in this joyous time of giving. We know that some of you enjoy teaching your family how to give generously. There are others who give for very different reasons. We appreciate each and every one of you who brings a gift. I hope that each of you will think of the joyous laughter; and picture the smiles of the children who receive these gifts.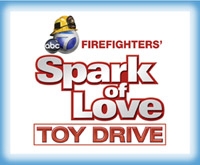 Honda of Pasadena as well as all Pasadena fire stations are convenient drop off locations. Please bring your unwrapped gifts for Spark of Love Pasadena Toy Drive. We will accept sports equipment, gift cards and toys for all ages of children; from infant to teenage years.
We are thrilled to offer discounts on services to those who partner with us in the Spark of Love Pasadena Toy Drive here at Honda of Pasadena. We are looking forward to having each of our patrons drop by for a warm and cheery hello; or service here at Honda of Pasadena. Again, we thank you for partnering with us for the Spark of Love Pasadena Toy Drive of 2011. Many children who may have never gotten a gift for the holidays; will for the first time enjoy their very own gift. We expect that this will be the highlight of this season of giving for you as well as them.
We are accepting new, unwrapped gifts until December 24th, but please drop them off as soon as possible. The more you give the more joy you'll have; and the more joy you will give. Don't forget that we will joyously give you discounts and services for your generosity.