Honda of Pasadena is happy to announce that the 2012 Honda Odyssey has received the Drivers' Choice award for best minivan for 2012 from MotorWeek. This racks up the sixth time the Odyssey has received this award. The Honda Odyssey has won back-to-back in years 1999/2000, 2005/2006 and now for 2011/2012.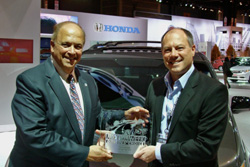 The eight passenger Honda Odyssey minivan is manufactured right here in the United States and offers one of the highest EPA highway fuel economy ratings for its class. The Odyssey has also earned the highest safety ratings something no other minivan has been able to match.
This vehicle has been a favorite of families for years with its cutting-edge technology that includes an unmatched safety rating, leading fuel economy and features that make road trips enjoyable.
The MotorWeek Drivers Choice award confirms the Honda Odyssey is the best minivan available for people who love to drive. Honda of Pasadena is proud to display the 2012 Honda Odyssey and provide information and test drives of this award-winning family vehicle.
Honda vehicles have been awarded the Drivers' Choice award by MotorWeek 29 times since 1983. MotorWeek is the winter of two Emmy awards one of the longest running television shows that provides unbiased information on automobiles.
The ultimate in family transportation 2012 Honda Odyssey is waiting for you and your family to give it the once over at Honda of Pasadena. Stop in bring the kids and we are sure you'll fall in love with all the features of this award-winning minivan.