Used Cars in Pasadena
Used-car shopping and Pasadena can be simple and easy when you stop in at Honda of Pasadena. We always have a large selection of quality used cars for you to choose from.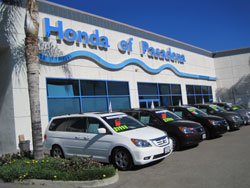 Great Auto Dealership
We have built their reputation on being a fair and honest auto dealership. We've done this by taking care of our customers and providing the highest standard and customer service. As one of Southern California's leading Honda dealerships we understand that you have a choice when shopping for a new or used vehicle. This is why we make sure you are always handled in a professional manner and never pressured while you're visiting our dealership.
Inspected Used Cars
Just because we are a Honda dealership doesn't mean we don't have quality used vehicles. The truth is Honda of Pasadena offers only the highest quality used cars available for resale. Each one of our used vehicles goes through a multi point safety inspection making sure that the used vehicles we offer are reliable and safe to drive.
 Get The Carfax
All of our used cars in Pasadena receive a Carfax history report to ensure the quality and that the vehicle meets all of our high standards. Out of all the vehicles we taken on trade only a small selection meet our criteria and standards to be offered as a quality used vehicle at our dealership.
Used Car Financing
As a professional automobile dealership we offer excellent financing on our used vehicles. Because we work with so many banks and financial institutions we are able to offer financing options for just about every credit situation. Whether your credit score is a little low or has an average rating our finance Department can work with you to achieve the payment structure you need for your budget.
Honda of Pasadena welcomes all used-car shoppers with a great selection of quality pre-owned vehicles that are waiting for you. You can choose from cars, trucks, minivans, crossovers and gas saving hybrids. In Pasadena we are one of the top sources for quality used cars and certified pre-owned Honda's.