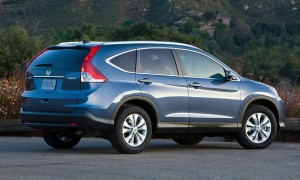 The 2013 Honda CR-V has numerous properties to it that most Honda enthusiasts look for when searching for a new automobile. The same holds true when comparing the Honda CR-V to other models of the hatchback or SUV sort. This article will highlight those comparisons and hopefully shed some light on just why this year's model of the CR-V stands out from the rest of the newly released vehicles of this caliber.
The new CR-V comes with a very roomy main compartment with plenty of space for your cargo and extra passengers. The high fuel economy (potential at about 25/30 mpg) of this vehicle is also what makes it such a highly regarded model of its kind. With its jam-packed technological capabilities and family-oriented features, the 2013 model of the CR-V is definitely one to keep in mind; topping anyone's list this year when searching for a family friendly vehicle. It also rated in top marks on crash tests – another sign of being a very family-oriented machine.
Unique colors are available with the CR-V, as opposed to certain other models of this type; the Equinox through Chevy or the Kia Sorento, for example. Basque Red Pearl, Mountain Air Metallic, Metallic Kona Coffee…just to name some of the few basic but exclusive colors that this model comes with. Couple this with its sleek, modern day design, and you have yourself a keeper of a car.
As far as the particularities on specs go, this car practically screams capable driving; especially since it's manufactured through a reputable company with a great reputation on not only quality but security. Being a 5-speed automatic, it guarantees that anyone with driving knowledge can drive it even if they don't have prior experience with manual transmission. It comes with a total seating of 5 which can be adjusted to less if the driver or other passengers have a huge load to carry.
As far as the 2013 Honda CR-V stands out comparative to other competition of this new year, it's obvious that the CR-V doesn't skim on safety, fuel per gallon per mile, and performance. In those respects, the CR-V is top of the line and can definitely hold its own on the road.
Honda of Pasadena
1965 East Foothill Boulevard
Pasadena, CA 91107
626-683-5888