Honda Graduate Program in Pasadena California
Well, it's that time year again when students graduate and start down the road of life. One of the most important things anyone can do in life is build a positive credit file. One of the easiest ways to start doing this is with the Honda Graduate Program from Honda of Pasadena.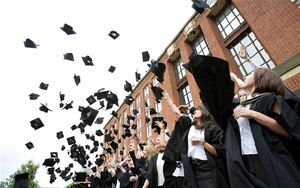 In Southern California Honda of Pasadena has one of the largest selections of the latest Honda models in all the popular trim levels and colors. And when it comes to helping graduates get into their first brand-new car no one makes it easier than us. The Honda Graduate Program is an excellent way to build your credit. Having a high credit score can open doors for you in the very near future. If you're a college graduate and are looking to work for a major corporation most companies today will run a credit report prior to hiring you. Having a positive credit score provides information about your responsibility level and commitment.
Honda of Pasadena offers flexible and competitive financing or leasing packages on new or certified pre-owned Honda vehicles. And when you utilize the Honda Graduate Program financing becomes much easier along with special interest rates and excellent terms. One of the best advantages of the Honda Graduate Program in Pasadena is you can defer your first payment for 90 days. This gives you a chance to get established in your new life before you have to make your first payment.
Here's a quick overview of the requirements for the Honda Graduate Program in Pasadena. You'll require a minimum of 5% down payment; you'll also need to supply verifiable proof of employment or a firm commitment from employer with a start date. To make it really flexible if you have graduated in the past two years you are eligible for the Honda Graduate Program. You must have a clean credit history, no negative comments on your credit report. You must have a Masters, bachelors or Associates degree from a US accredited college or registered nursing school to be eligible for this program.
To get started in the Honda Graduate Program at Honda of Pasadena is very simple. Just provide us with your information and we can do the rest. Will run your credit report, and help you with all the documents required to get you the best financing through our Honda Graduate Program today. Finding the right vehicle for your needs is really simple, one of our helpful Honda professionals can go over all the details of every model and answer all your questions.
So if you have graduated college in the past two years and are looking for an easy way to finance a new or certified pre-owned Honda vehicle stop in and talk to us about the Honda Graduate Program, Honda of Pasadena is open seven days a week for your convenience.
Honda of Pasadena
1965 E. Foothill Blvd.
Pasadena, CA 91107
626-683-5888