Have you liked our Facebook page? Honda of Pasadena has a very active Facebook page for you to interact with us and stay up-to-date on the latest specials and events at our dealership.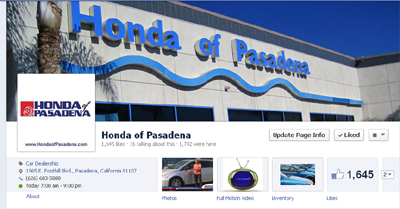 We are Southern California's Honda dealerships and we are always trying to improve on your customer experience. When you like our Facebook page you will not get overrun with a bunch of sales information from our dealership. Instead, we try to post interesting information about our vehicles and daily life. Honda of Pasadena loves providing interesting information about our Honda vehicles and our dealership. Keeping you up-to-date on what's going on is important. We're always involved in some type of community event and Facebook is a great place to find out all the details.
Sure, we post information about sales and special offers, but that's not our main reason for using Facebook. We know that our customers would rather receive useful information and tips about Honda vehicles and our dealership instead of a bunch of sales information. This is why we spend a lot of time making sure that our Facebook feed always has something interesting for everyone.
So if you want to know what's going on at Honda of Pasadena we invite you to like our Facebook page. One of the best things about Facebook is we can hear from you and we enjoy reading your comment's. Honda Pasadena is one of the leading Honda dealerships in Southern California. Located in Pasadena California we always have a large selection of the latest models in the most desirable colors and trim packages. If you're looking for used vehicle you'll also find an excellent selection of high quality used cars, trucks, SUVs, and hybrids.
Honda of Pasadena
1965 Foothill Blvd.
Pasadena, CA 91107
626-683-5888