Honda Accord Earns Green Car Journal Title of "2014 Green Car of the Year"
The Green Car Journal has named the 2014 Honda Accord the "2014 green Car of the Year." The Accord, which is already the top selling car in America, has now been given this additional award. At Honda of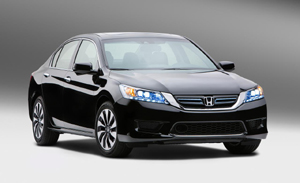 Pasadena, you can see and test drive this popular and award winning vehicle for yourself!
The Green Car of the Year award recognizes the vehicle that leads in environmental performance, which includes fuel efficiency and a low rate of emissions.
The Accord lineup is led by the 2014 Accord Hybrid and embodies the promise that is offered by the Honda brand to deliver drivers both fun and great fuel efficiency. Honda of Pasadena is excited to let our customers know about the latest award that this vehicle has received.
The Accord was selected to be the recipient of this award for a number of reasons, with one being the fact that it offers an efficient choice for a wide array of consumers. The car has also been honored as one of the "Top 5 Green Cars in 2014" as well as earning the distinction of "Green Car Product of Excellence."
In the past three years Honda vehicles have received this award twice, with the 2014 Accord being the second recipient. Visit Honda of Pasadena in Pasadena, California today to see the 2014 Accord, award winning vehicle, yourself.
Honda of Pasadena
1965 Foothill Blvd.
Pasadena, CA 91107