Find a Great Used Car Under $10,000 in Pasadena
Shopping for a new vehicle can be extremely stressful, especially when you are trying to buy a quality vehicle on a budget.  There are numerous dealerships out there that offer new vehicles with a lot of bells and whistles, but that can cost tens of thousands of dollars!  Most people, especially in these economic times, don't have that kind of money to put into a vehicle. Don't despair; it is possible to find a great used vehicle for a much lower price. You will find a large selection of quality used cars under $10,000.
Honda of Pasadena is one of the area's leading used car centers.  If the lot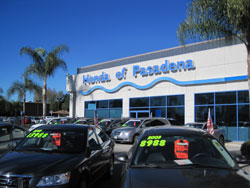 doesn't have something that is exactly what you are looking for today, check back tomorrow or the next day! Honda of Pasadena is always receiving in new vehicles so your odds of finding something there that meets your needs perfectly is very high. We also keep a good stock of affordable Honda's with easy financing.
Besides the great price, one of the great things about buying a used car at Honda of Pasadena for under $10,000 is that every vehicle comes with a free CarFax report.  Getting a CarFax report is important because it gives you a history of the vehicle, telling you if it has been in an accident or not.
If your credit score is less than stellar, don't worry!  You can still qualify! In fact, you can get pre-approved online for a vehicle right on our website, even if you have a low credit score.  Buying a vehicle from Honda of Pasadena can actually be a great thing for your credit because as you make your payments on time, you will build your credit score and by the time you pay it off, your credit score will be significantly higher.
Stop by and talk to one our professional staff members about getting a quality used car for under $10,000. You maybe surprised to find out you can get into one our certified pre-owned Honda's for a small monthly payment.
Honda of Pasadena
1965 East Foothill Blvd.
Pasadena, CA 91107
626-683-5888