Save On Gas with the  Honda Fit EV at Honda of Pasadena
The Honda Fit is already deemed as one of Honda's safest vehicles on the road, but it has recently been named by Kelley Blue Book as one of the 10 Best Green Cars of 2013. The Honda Fit EV is a fully electric vehicle and is powered by a 20-kilowatt lithium-ion battery and a 92 kilowatt AC synchronous electric motor. Together they produce up to 124 horsepower and up to 189 pound feet of torque. Honda of Pasadena is proud to offer the Honda Fit EV, helping keep vehicle emissions minimized in the Los Angeles area.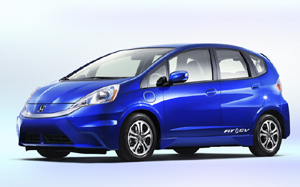 The vice president of product planning and logistics at Honda, Art Cyr boasts about the title and explains "Consumers only have one choice for the most energy efficient electric vehicle- the Honda fit EV. What's more, its power and handling make it one of the most fun-to-drive EV's available." This recognition from Kelley Blue Book is one of the most prestigious titles to receive, reflecting the tremendous environmental and customer values available on the market.
For drivers who are looking to reduce their personal carbon footprint, the Honda Fit EV is one of the ten best green cars on the market! Not only is this model good for the environment, it is also a great fit for your budget! You can visit Honda of Pasadena to schedule your own test drive and experience first hand how great this new Honda is to drive!
Honda of Pasadena
1965 Foothill Blvd.
Pasadena, CA 91107
626-400-6475