The 2014 Honda Civic Coupe CVT Offers Drivers a Sporty and Efficient Design
The Civic Coupe has become the practical and tidy option for drivers in the past; however, Honda is working to break this trend with the debut of the two-door Civic Coupe. This vehicle is the pivotal element in keeping anyone wanting a sporty-car from abandoning the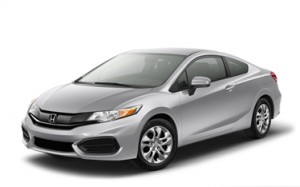 well-known vehicle. A crucial part of this mission is providing a vehicle that does not feel cheap when facing the sophisticated competition.
The 2014 Civic Coupe at Honda of Pasadena offers a much more styled appearance that is considered a bit dressier than the previous 2013 model. Some of the updates that are offered include the suspension, a stiffer rear anti-roll bar, as well as higher spring rates.
This model has also earned three horsepower, as well as one pound/foot of torque over the previous year's model, due to a lower-restriction exhaust that is shared with the larger sedan. The big news on the mechanical side for this vehicle is the continuously variable transmission, which has replaced the five speed automatic that was offered on last year's model.
While the 1.8 liter 143 horsepower engine takes 8.6 seconds to go from zero to 60 making it fall significantly short of high performance, the coupe is 1.5 inches shorter and somewhat squattier tan the Civic sedan, which helps it to seem much more vivacious. The brake pedal on this model has an aggressive bite and crisp response, offering more braking power than ever before.
Another new feature of the Honda Civic Coupe CVT is the fact that it has a new seven inch center touch screen in the cabin offering a smartphone like interface, which includes text-messaging functionality and Pandora playback. The vehicle also offers an HDMI interface in order to play video and audio.
For any Honda shopper that wants the reliability of a Civic Coupe with a sportier look and feel, the CVT is the ideal compromise. If you are ready to experience this model for yourself, visit Honda of Pasadena today and take it for a spin. This is the sporty, practical car that offers drivers with a stylish look, superior function and efficient features.
Honda of Pasadena
1965 Foothill Blvd.
Pasadena, CA 91107
626-400-6475