The 2014 Honda Civic Offers Honda of Pasadena Customers New Features and Bigger Value
After a while consumers can get bored with the "same 'ole, same 'ole" when it comes to their automobiles. If there is not something different, that stands out from the crowd it is extremely difficult to catch significant attention from auto shoppers. Honda understands this and strives to offer their customers new and exciting vehicles each year that definitely stand out!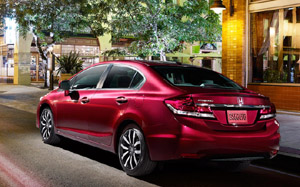 One of the latest vehicles offered by the Honda brand, which can now be seen at Honda of Pasadena in Pasadena, California, is the 2014 Honda Civic. The Civic is a trusted vehicle that performs well and offers great value; for 2014 it has been enhanced significantly to offer even more value to consumers.
Some of the most exciting new features that can be seen is a dynamic and fresh exterior with premium interior refinements, which help to increase the aesthetic appeal of the new Civic. Additionally, the vehicle now offers a seven inch touch screen Display Audio, Smart Entry, LaneWatch technology and Push Button Start. This vehicle also marks the introduction of the HondaLink Next Generation for connected car technology. The HondaLink is a type of application based platform that will allow a seamless integration in between your smartphone and your vehicle, which will provide you with access to cloud based and online information and content.
This vehicle offers consumers what they want, the latest innovative technology with a great looking vehicle. If you want to see the recently released 2014 Honda Civic, visit Honda of Pasadena in Pasadena, California today.
Honda of Pasadena services Glendale, Santa Clarita, The San Fernando Valley and Alhambra.
Honda of Pasadena
1965 Foothill Blvd.
Pasadena, CA 91107
626-400-6475