Key Features of the 2014 Honda Pilot
For the people who are looking for space and luxury in their vehicle, the 2014 Honda Pilot can provide that and so much more. The Pilot is equipped with many features that has made it one of Honda's biggest selling vehicles and one of the most fuel efficient vehicles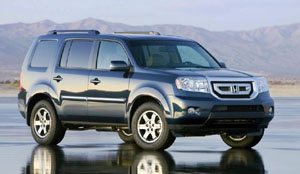 in its class. There are many extra features that you can add to the 2014 Honda Pilot, such as 8 inch television screens and Bluetooth, just to name a few. Here are a few of the many features that you can get with your purchase of a 2014 Honda Pilot.
The Perks
The 2014 Honda Pilot is filled with features that will make your ride more comfortable and smooth. It has a very spacious cabin that has enough room to hold eight people, which is ideal for a big family. The new Honda Pilot is also equipped with a Variable Cylinder Management system, which will allow for three of the cylinders in the engine to close when driving on the open road. This can help to increase the overall gas mileage and make the right smoother in the process. The forward momentum of the car is what keeps it going when the cylinders shut down.
The Powerful Engine
A large vehicle like the 2014 Honda Pilot needs an equally big engine and the 3.5 Liter V6 does the job quite nicely. This 24 valve single overhead cam engine is both very powerful and great on gas, which is a feat in itself. The engine is equipped with coolers for both the radiator and the power steering, which helps to keep the engine cool when you are driving long distances. The 2014 Honda Pilot also comes with an equally powerful five speed transmission, which helps to send the power of the engine to all four wheels.
The Safety Features
Just like every other Honda vehicle, the 2014 Honda Pilot is equipped with many safety features. The Pilot has a side curtain airbag for the back seat and two individual air bags for the front. The second and third row seats are both equipped with latch hooks for a child's car seat. The body structure for the cabin of the vehicle is designed to deflect the force from a crash, which in turn keeps you and your family safer during a crash.
Honda of Pasadena
1965 Foothill Blvd.
Pasadena, CA 91107
626-400-6475