USAA has named 2012 Honda CR-Z Sport Hybrid Coupe as a "Best Value" automobile. This means the vehicle is among the ones that give consumers the most benefits from their investments. The top cars are listed in 16 categories and the CR-Z was listed among the "Top 10 for Teens List," which takes a closer look at the features parents care the most about, namely: safety, reliability and affordable insurance premiums. USAA is a leading provider of financial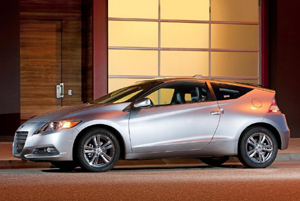 services to members of the American military and their families.
Listed under the "Coupe" category, the Honda CR-Z came on top for providing reasonable ownership and maintenance costs. It provides the best-in-class ratings of fuel economy according to EPA. In addition, the Insurance Institute for Highway Safety gave it the "Top Safety Pick" designation.
The car provides a value category of its own because it is the first real sport hybrid. It has low entry price and provides great fuel economy. It has a six-speed manual transmission and can be changed to sport mode with the push of a button. According to American Honda's VP of National Marketing Operations, Mike Accavitti, it is like owning two vehicles for the cost of one.
Steve Thomson of USAA explained that the list was aimed at helping members identify cars offering higher fuel economy, lower insurance premiums, better safety ratings, lower MSRP and better overall reliability than other cars in the same category.
USAA evaluates vehicles based on a variety of features, including cost, reliability and safety. It has currently designated about 80 trucks, minivans and cars to its "USAA Preferred" rating system.
Honda of Pasadena also recognizes the CR-Z hybrid car as a great buy for consumers who want to get the best value for their money. More information contact Honda of Pasadena.