So you're in the market to buy a new Honda in Pasadena you've made a great choice by stopping off here for some solid advice from your friendly dealership Honda of Pasadena.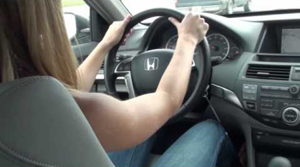 A lot of people wonder what is the best way to test drive a vehicle when you're thinking of buying a Honda. What should you be looking for and why should it matter? Choosing the wrong vehicle for several different reasons can leave you frustrated and unhappy over the time you own the car.
Before you even think of test driving consider your needs and budget first. Your helpful Honda sales professional at Honda of Pasadena can help you with your budget and provide you with the features you need. One great thing about the Honda vehicle lineup is we offer a large variety of vehicles to choose from. Whether you're looking for a two-door coupe, four-door sedan or need room for the family in an SUV or minivan.
When it comes time to test driving a vehicle there are a few things you need to consider before taking that vehicle for a spin. Don't just think about how the car drives, you want to check see if the vehicle is practical for your everyday needs. Is the vehicle easy to get in and out of should be one of the first things you check. Can the seats adjust so you are comfortable not causing any back pain or having to reach to adjust the radio, air conditioning or any other feature the vehicle offers? Before you start the car and take it out for your test drive make sure you have great visibility through all the windows and the rearview mirror and side mirrors. People are all different sizes and shapes and Honda offers a vehicle that will fit just about anybody comfortably.
Once you're on your test drive here are list of things to evaluate
Acceleration
Engine noise
Hill-climbing power
Braking
Steering (is it too much play in the steering for you or is it too hard to steer)
Suspension (how does the vehicle ride is it smooth or is it a little rough)
Cargo space (make sure to consider all your needs, do you have small children and have to take strollers and other things with you?)
Depending on your driving habits make sure the vehicle meets all your requirements. Because of the vast array of vehicles Honda offers your Honda of Pasadena sales professional can show you everyone that we have.
All of our sales professionals at Honda of Pasadena are ready to answer all of your questions and help you select the right vehicle for your needs. It's our pleasure to spend as much time with you as you need making sure that you get the exact vehicle you're looking for. With our large inventory of the latest Honda models in all the desired trim packages and colors you can test drive every vehicle we have until you find the exact one you're looking for.
Please stop into our dealership and talk with one of our helpful Honda professionals about your needs and budget. We will be more than happy to exceed your expectations and make your next car shopping experience the best one you've ever had.
Honda of Pasadena
1965 E. Foothill Blvd.
Pasadena, CA 91107
626-683-5888