The 2012 Honda CR-V is boasting a new style that is sure to turn heads. The best seller in its class, from 2007 – 2010 has some distinctive new features and a bold new look. Honda of Pasadena offers special rates making it easy for you to drive one.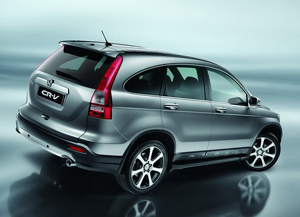 The Honda CR-V has long been considered the leader in setting the bar for friendly design and packaging. This year it is going to feature some of Honda's brand-new technology, as well as a deliberately versatile interior.
The 2012 Honda CR-V's signature vertical rear taillights will return again this year featuring a three-dimensional style that integrates smoothly into the vehicles design. The 2012 Honda CR-V from Honda of Pasadena also features bold fender flares which house larger 5-spoke alloy wheels, which are a visual improvement over past models.
The new design will provide the look of a more confident and capable SUV, while the addition of smooth lines and other body enhancements give it an aerodynamic edge. By lowering the body weight of the new 2012 Honda CR-V, giving it a more fuel efficient engine, and making the interior more spacious, this year's model will certainly be the small SUV to keep an eye on.
The 2012 Honda CR-V received such recognition as, one of the highest ranked vehicles in initial quality by J. D. Power and Associates, second only to the Honda Element.
With plenty of storage and space for everyone including the family dog the 2012 Honda CR-V is available at Honda of Pasadena, drive the future today!