Easy Driving Features of the Honda Odyssey Minivan
While the minivan is not the most exciting vehicle offered by Honda of Pasadena, it definitely offers features making it a comfortable and smart buy for families. It provides the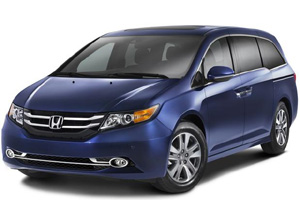 ideal companion for long trips with pets, children and luggage, offering superior comfort for the driver and every passenger.
The Honda Odyssey is considered a veteran in the minivan world, a true road warrior that is able to serve the needs of families each year. The latest version of the Odyssey, the 2014 model, provides a modern and nearly futuristic style, with simple lines. The front end of the Odyssey rakes down from the windshield to the grille, which helps to ease frontward visibility. The grille features two bars, which includes integrated headlight casings, making this model unmistakably Honda, mimicking a number of other well-known models.
Power sliding doors are offered as a standard feature in all of the trim options but the LX and the power rear hatch is offered as a standard feature on all models starting at the EX-L. The van offers seating for up to eight people, clearly making it an ideal option for larger families. The row in the middle is configured as a bench with three seats, or provides a center console that can drop down, creating captain's chairs, which are more comfortable for adult passengers. The third row of seating, which is often compared to a torture chamber in other models, is easily accessed and surprisingly comfortable.
Upon opening the rear hatch you will discover a cavernous amount of cargo room, which is created when the third row of seats is folded into the floor. However, even with the seats in place, the cargo area is still significantly larger than you would expect.
A feature showpiece of the Honda Odyssey is the integrated vacuum cleaner that is available in the back. It runs off of the minivan's battery and the hose is able to be retracted easily. The vacuum is only offered in the top Touring Elite trim of the Odyssey.
No matter the trim level that you choose, the Odyssey offers a V6 engine, a six speed automatic transmission, as well as an all-electric power steering system.
The driving character of the 2014 Odyssey is best described as easy offering a simple design giving families the ability to "get in and go." This van is focused on helping busy parents get kids in and out of the vehicle quickly, rather than superior acceleration levels.
If you are ready for a comfortable, efficient and easy-driving experience, visit Honda of Pasadena today and test drive the latest offering in the long line of Odyssey minivans offered by Honda.
Honda of Pasadena
1965 Foothill Blvd.
Pasadena, CA 91107
626-400-6475