The Features of a 2014 Honda Ridgeline
For the people who want the appeal of a truck, but the features and look of a Honda, the 2014 Honda Ridgeline is just what they are looking for. The Ridgeline has been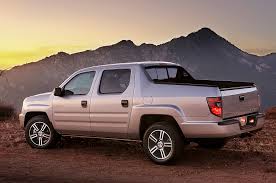 one of the best-selling vehicles in the Honda fleet for good reasons. The Honda Ridgeline comes stock with the features most people are looking for when they need a truck. It has the power of a truck but the feel of a luxury vehicle. The following are a few of the many features offered in the 2014 Honda Ridgeline.
Interior Features
The interior of the 2014 Honda Ridgeline is equipped with great features that will ensure that you and your family have a comfortable ride. The front bucket seats are made of cloth and are fully adjustable, which allows the user to customize them to their liking. The rear seats can fold up and down, which is convenient if you have to haul items in the back seat. There are also remote power door locks and power mirrors, which allow the user to change their line of sight with the touch of a button. This helps to up the level of convenience and makes for a much smoother ride.
Exterior Features
The exterior of the 2014 Honda Ridgeline is equipped with intermittent wipers, which are very handy in a heavy downpour. The rims on the Ridgeline are made of alloy, which makes them both aesthetically appealing and durable. The look of the 2014 Honda Ridgeline is like no other and has won many design awards due to this fact. The headlights are LED, which make them brighter than normal composite type headlights. The brighter headlights also help to increase the level of the safety involved in driving at night.
Safety Features
One of the first things that people think of when Honda is mentioned is safety. The 2014 Honda Ridgeline is equipped with many features that help to increase the overall safety of the vehicle. The 4 wheel ABS is a big help when you need to stop quickly without locking up your brakes. There are both driver and passenger side airbags, which help to protect the passengers in the vehicle in the event of a crash. With all of the safety features that the 2014 Honda Ridgeline has, you will not hesitate to load up the family and take a trip.
If you are interested in all the exciting features offered by the 2014 Honda Ridgeline, stop by Honda of Pasadena to test drive it today.
Honda of Pasadena
1965 Foothill Blvd.
Pasadena, CA 91107
626-400-6475