Our approach to helping you select the right vehicle for your needs is quite different than any other dealership in the Alhambra area.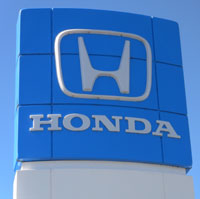 When you're shopping for a Honda in Alhambra you want answers to your questions on features, benefits, fuel economy and value. The last thing you need is the runaround and all the games other Honda dealerships play. Our approach to helping you select the right Honda vehicle for your wants and needs is very simple, we talk with you and ask questions. When we discover your needs and what you expect the vehicle to provide you, we help you select the right Honda that will give you everything you're looking for.
When it comes to negotiating the price, we make that simple too. We help you achieve the best interest rate for your credit score and make sure you have a payment that fits within your budget. Our professional finance department can help any Alhambra Honda buyer drive the car they want regardless of your credit score. Credit score is not the only deciding factor in whether you get financed or what interest rate is available to you. There are a number of other factors in achieving financing on a new or used vehicle.
So we invite all Alhambra Honda shoppers to visit Honda of Pasadena for a great selection, better deals and more personalized customer service than any other Honda dealer in the area. It's our goal to provide you with the best car buying experience so you refer your friends and family. Our business is built on trust, honesty and friendship. We offer a great selection of new and certified pre-owned Honda has along with a huge selection of used cars. Alhambra Honda buyers will be impressed with our showroom and the level of customer service they receive.