Car and Driver magazine has just announced its highly prestigious 10 best car awards, and making the list are the 2012 Honda Accord and the Fit. The Accord has been awarded with Car and Driver 10 best car awards a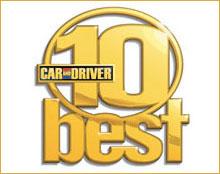 record 26 times since the competition began 30 years ago. This makes the Accord a best car awards veteran. The Accord is currently ranked the number one model, while Honda is listed to be the top manufacturer with 73 total wins.
And while the four-cylinder eighth generation Accord shines on the list, another Honda vehicle, the Fit, makes the list as well. The Fit has been on the Car and Driver list every year since its first U.S. production in 2007.
The 2012 Accord has good fuel economy, returning 33 mpg on the highway and is a big enough sedan to comfortably seat five passengers, its big enough to be considered a Large Sedan by the EPA. The Fit has the same fuel economy and has a cargo volume of up to 57 cubic feet of cargo volume. Both cars come at a solid volume and Honda of Pasadena has these models and more currently in stock for all of your needs. So if you want a vehicle that has been on Car and Driver best car awards more than any other, Honda of Pasadena has it.