Honda recently announced its new Earth Dreams Technology. The Earth Dreams Technology is next generation technology from Honda that's designed to enhance both the driving experience and fuel efficiency offered on different vehicle models. As Honda rolls out this environmentally conscious technology, Honda Pasadena will bring it to our local community.
One key feature of the Earth Dreams Technology is the improved VTEC technology used in its gasoline engines. Right now its only available in the N Box mini vehicle. You'll eventually be able to find it at Honda Pasadena in engine classes from 660 cc up to 3.5 liters.
Another important part of this program is the development of a two-motor hybrid system that can deliver top of the line fuel efficiency. This new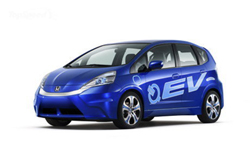 technology uses a special lithium-ion battery and has been optimized for three different driving modes. An EV driving mode kicks in while driving in urban environments, while the hybrid driving mode accesses the electricity produced by the motor. An engine-connected driving mode mechanically connects the engine and tires to improve high speed cruising.
There is also a new hybrid system, the electric SH-AWD, for use in heavy weight vehicles. This hybrid system combines with a 3.5L, V6 engine to offer the acceleration of a V8 engine, while achieving a fuel efficiency similar to in-line 4 cylinder engines. Honda also improved the handling of such vehicles by installing two independent motors in the rear that leverage the new bilateral torque adjustable control system.
The other notable features of the Earth Dreams Technology will also be available at Honda Pasadena. These include a new compact diesel engine that mixes elite acceleration with fuel efficiency, three new CVT structures for mini, compact and mid-size cars, and high efficiency, compact electric powertrain for EVs.
Honda has developed the Earth Dreams Technology suite to continue its role as a vehicle manufacturer that takes protecting the environment seriously while also making sure to produce vehicles that live up to the joy of driving. Honda of Pasadena can keep you posted as these vehicles roll out, so "Like" us on Facebook to stay current.