Amid soaring gas prices and a tough economy, car buyers are placing even more emphasis on value, quality and fuel efficiency. Honda awards for these qualities come in abundance. Honda of Pasadena introduces its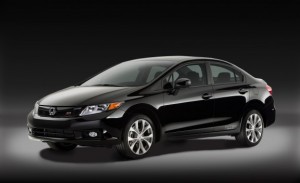 customers to Honda's award-winning vehicle lineup that features long-lasting value and family-friendly design.
A standout offered by Honda of Pasadena is the 2012 Honda Civic, which has been a smash among auto reviewers and car buyers. Kelley Blue Book praised its engineering and named it a 2012 Best Redesigned Vehicle for its "well-rounded performance" and "notably superior daily driving dynamics." KBB also named the 2012 Honda Civic as one the Best Family Cars of 2012 for its family friendliness, comfort, safety, low cost of ownership and favorable consumer reviews. About.com named the newest edition of the Honda Civic one of the Best New Cars of 2012 in all its different versions – sedans, coupes, high performance, hybrids, fuel efficient, natural gas powered.
The Honda Civic also boasts top-of-the-line performance and safety. The Honda Civic topped J.D. Power and Associates' rankings of vehicles that perform the best during the first 90 days of ownership. Its performance in four different crash tests got it picked as a 2012 Top Safety Pick by the Insurance Institute for Highway Safety.
All this quality means that Honda vehicles hold their value for a long time. Kelley Blue Book said the 2012 Honda Civic Hybrid has the best resale value of hybrids from that model year. The 2011 year model won recognition from Edmonds.com as the hybrid with the lowest annual cost of ownership.
The Honda awards don't stop with the Civic. Its overall vehicle lineup won the inaugural Edmonds.com Best Retained Value Award for Non-Luxury Brands, along with Best Retained Value Awards for four models. Honda has been named as the U.S.'s Greenest Automaker by the Union of Concerned Scientists for five straight years.
Whichever quality of Honda vehicles impresses you the most – their family-friendliness, safety, quality, long-lasting value or eco-friendliness – Honda of Pasadena can match you up with a Honda vehicle that fulfills your wants and needs.