The Honda Civic GX natural gas model has excellent gas mileage, but the 2012 model beats it by 12.5 percent.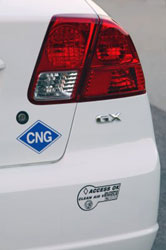 It now features a driver oriented 5 inch color LCD display that provides vehicle information and personal electronics display. California drivers of this compressed natural gas vehicle will have access to the High Occupancy Vehicle (HOV) highway lane until January 2015. This allows a single occupant to use the high occupancy vehicle lanes as long as you display the clean air sticker. There are three types of stickers. The white clean air vehicle sticker which allows a certified pure zero emission vehicle and a compressed natural gas vehicle to qualify to use the lanes. The yellow clean air sticker is for qualifying hybrids. They were limited to the first 85,000 applicants. The green clean air vehicle sticker is pending at this time but will be available January 1, 2012 for advanced technology partial zero emission vehicles.
The honda cng vehicle owners receive their gas through the public station network. California has over 110 public stations. The honda cng has quite a few safety features. Tire pressure monitoring system and the daytime running lights are a great one. Front airbags and side curtains is a plus. The 4 wheel anti brake system with electronic brake distribution is a safety plus for all types of weather. The honda cng has great sporty exterior features also.
The natural gas civic is reasonably priced to help you save money on fuel and help the environment. You will be able to drive around the gas stations in your honda civic since it does not take a drop of gasoline. With the natural gas civic, it was built to meet your driving needs.
For more information on the this vehicle stop in at Honda of Pasadena for the full story.