With the popularity of electric cars soaring, it is no surprise that Honda is unveiling a new concept electric car. Debuted at the Los Angeles Auto show last November, this car is a signal that Honda remains committed to building innovative green vehicles.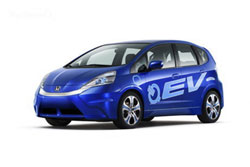 An entirely electric vehicle, the Honda Fit EV is designed to meet the commuting needs of an average city or suburban driver. Similar in layout to the FIT, this hatchback has a driving range of approximately 100 miles before needing recharging, which is many more miles that are usually driven during the day by the average commuter. Drivers are also given the option of maximizing driving efficiency by choosing one of three driving modes.
This Honda concept car will offer owners the luxury of a "connected car" by offering owners a remote control that will allow them to monitor the car's charging status and remotely control features such as the air conditioning. In additional to remote features, each car comes with the Honda Satellite Linked Navigation System™ that allows owners to locate charging centers and receive roadside assistance.
The Honda Fit EV requires only 12 hours to charge on a regular 120-volt outlet and features LED headlights, bio-fabric interiors, and other eco-friendly accessories.
Displayed with a prototype charging center, this Honda concept car envisions a future where electric vehicles are common and widely supported, a future that cannot come soon enough.
Want more information about the Honda Fit EV? Contact Honda of Pasadena for all the info, or put your name and email below and we will send you updates and other Information.