If you are a recent college graduate and in need of a car, Honda of Pasadena can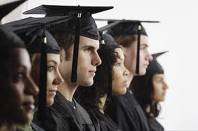 help. With the Honda Grad Program you can receive flexible and competitive financing to either lease or purchase any new or Honda Certified Used Car.
Some requirements to be eligible for the Honda Graduate Program are to have a 5% minimum down payment and verification of employment or a firm commitment from an employer with a start daye no more than 120 days from the date of the contract. Also to be a graduate with a master's, bachelor's or associate degree from a U.S. accredited college or nursing school within the past two years or will graduate in the next four months.
If you meet these requirements and are in need of a new car you can take advantage of the Honda Grad Program.
On the Honda of Pasadena website you will find more information about car finance and how we can help you with all your auto needs. You can apply online and know about a car loan in just seconds!… even if you have challenged credit!
So if you meet the requirement and are looking at a new vehicle, stop in at Honda of Pasadena.