Honda LaneWatch™ Blind Spot Display Wins A 2013 VIP Award from Good Housekeeping           
When the Good Housekeeping Research Institute evaluated over a thousand new products from 2013 for performance and safety, only one automotive product emerged with their Very Innovative Product Award: Honda's "LaneWatch" blind spot display system.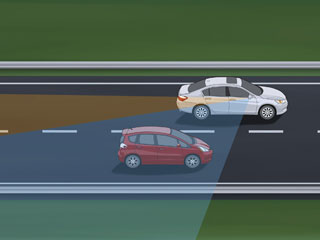 Here is how the LaneWatch system works: when the driver activates the right turn signal, a wide-angle camera mounted in the base of the passenger-side mirror display transmits real-time video to an eight-inch color monitor on the dashboard. The camera and monitor system provide the driver with real-time images of what is happening in the blind spot on the passenger's side of the vehicle. The driver can also activate the camera by manually pressing a button on the turn signal. The display also incorporates three reference lines to assist the driver in estimating the distance of objects. Honda claims that the LaneWatch system increases the passenger-side mirror's field of view by a factor of four, i.e., from approximately 20 degrees for a typical passenger-side mirror to approximately 80 degrees using the LaneWatch system.
The Honda LaneWatch system will ship standard with the Honda Accord EX, EX-L, EX-L V-6, and Touring models, as well as the Honda Crosstour models, all of which are available at Honda of Pasadena, of Pasadena, California.
According to the National Highway Traffic Safety Administration (NHTSA), there are over 800,000 collisions attributed to side-to-side blind spot miscalculations each year. The NHTSA awarded the 2013 Honda Accord a 5-star overall crash test rating, noting that the model scored highly in all of its crash tests.
See this safety feature today at Honda of Pasadena serving all of Southern California. Let one of our helpful Honda professionals demo it for you.
Honda of Pasadena
1965 E. Foothill Blvd.
Pasadena, CA 91107
626-683-5888