Honda Satellite-Linked Navigation
One of the greatest features available in Honda vehicles today is the on board Honda Navigation System. Utilizing satellite technology this system can provide you with point-to-point and turn by turn navigation to any location in the United States. This one piece of technology has improved the automobile beyond any other feature for convenience and safety.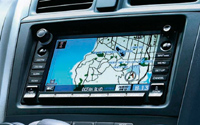 Voice Commands:
The Honda Navigation System is available at Honda of Pasadena on just about every 2011, and 2012 model currently offered. This system also provides voice recognition for over 600 commands; this includes street names and cities along with business names and points of interest. You can also receive restaurant reviews and locate nearest gas station without ever taking your hands off the steering wheel. Bluetooth enabled for complete hands-free calling makes the Honda Navigation System not only convenient but increases the safety of your driving. With having so much information at the touch of your fingers your eyes will never have to stray from the road to look at a map, make a phone call or select a different radio station.
More Information:
Honda of Pasadena can provide you with the information to answer all your questions along with a complete demo of this amazing system. The Honda Navigation System can provide you with traffic information, road closures along with voice turn by turn instructions. Once you use this amazing new technology in your new Honda, you'll wonder how you ever lived without it.
Get a Demo:
Honda of Pasadena prides itself in the level of customer service it provides, along with an unmatched car buying experience. For more information on the Honda Navigation System please contact one of our Honda consultants today! 626-683-5888