The 2011 Honda Odyssey was recently awarded by the Insurance Institute for Highway Safety as the top Safety pick, confirming its claim to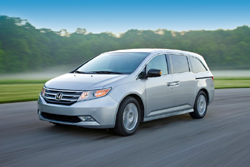 be the leader among the vehicles in its class. Something that Honda of Pasadena is proud of, It's one of our top selling vehicles.
The Odyssey had already earned such reputation and such rating for safety it was also tested by the IIHS for its roof strength. A test which is made as a prerequisite by the IIHS for the Top Safety Picks and the 2011 Honda Odyssey passed it with flying colors.
With Odyssey's safety features, only the Toyota Sienna comes close, but was only given a three star result. This is something that the maker of the 2011 Honda Odyssey can be proud of after hurdling the new and more stringent safety test and rating system that have been implemented by the IIHS.
Odyssey's excellent steering and handling performance have out classed all other vehicles in its category which includes other minivans and other large luxury vehicles which also have claimed to have the lowest death toll rates of their drivers.
These vehicles just like the Odyssey have lower centers, making them more balanced in case of emergency maneuvers. But what makes the Odyssey even better is the way it protects not only the driver but the occupant themselves.
And after having been awarded by the IIHS with a five star rank based on its safety features, the 2011 Honda Odyssey is truly a certified top notch car in terms of road safety and worthiness.
Now that is something Honda of Pasadena has been bragging about, a five star rating coming from one of best selling Honda vehicles. But don't take their word for it; check out the Insurance Institute for Highway Safety for the ratings.
So when shopping for a safe and reliable vehicle, consider the 2011 Honda Odyssey, where safety and comfort is possible.