If you are a person who frequently tows, whether on a serious off-road travels or on a friendlier road and always experiences towing problems, well maybe you haven't heard about the Honda Ridgeline's Towing capabilities. More Take a little time to read this short information and perhaps a minute later you'll come to a brilliant decision.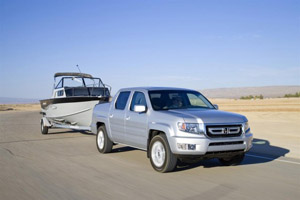 First, Honda Ridgeline is not a heavy duty truck. But as a pickup truck, it provides you the comfort of an SUV and  powerful towing strength of up to 5,000 pounds (2,268kg). The latest 2011 model is built with maximum performance in towing capacity. Its powerful V-6 engine with 250 horsepower contributes to its higher towing strength but maintains its economical fuel consumptions. And the integrated closed box frame construction gives it more extraordinary torsional rigidity that adds to its towing capacity by increasing the strength of its body. Not only that, Ridgeline has a 4-wheel-drive system, making it more powerful than ever in performing towing and hauling. All models RTS, RTL and RT, come with an integrated Class III trailer hitch. Also a standard high-capacity radiator with dual 160-watt fans, a heavy-duty power-steering fluid cooler, a high-capacity ATF cooler, and a trailer harness on the RTS and RTL, (RT is pre-wired for a trailer harness).  Large break rotors at all four wheels and Electronic Brake Distribution (EBD) assures quick and deliberate stops when it's most needed. And with these features, Honda Ridgeline totally lets you to carry heavier loads even on rough terrains comfortably.
As drivers we want a vehicle that could do almost everything, in fact if only there is a Supercar then we definitely would have it, but too bad because there's obviously none. Well, in the Pick Up trucks categories, it is safe to say that Honda Ridgeline is pretty much the best there is in towing performances, with a surprising build that's not only designed for serious and mild off-road conditions, but does great hauling capacities, amazing towing strength, a 3.5-liter V6 engine that's smooth, quiet and responsive. With reinforced safety levels of body- build. Honda's 2011 Ridgeline delivers another high performance, great handling, agile and steady ride for everyone. More information about Honda Ridgeline from Honda of Pasadena please visit our site, www.hondaofpasadena.com.