Honda of Pasadena is committed to keeping Los Angeles drivers safe. No matter how good of a driver someone is, there is always a possibility of being involved in a car accident. This is why Honda developed the City-Brake Active System, which is an accident avoidance support system bundled into the safety package. The Honda safety package has enhanced safety features including vehicle occupant protection technology with side and curtain airbags as well.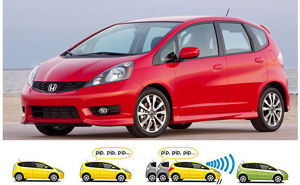 This revamped Safety Package will be adopted for the all-new Honda Fit, which goes on sale this year! While navigating the streets of LA going 30 mpg or less, the City-Brake Active System gives audio and visual warnings to the driver when it senses a high-risk collision by the laser radar installed in the upper part of the windshield.  If the driver does not take action to slow down, then the system kicks in and applies brakes automatically.
The safety system also features a function that restrains the false start of the vehicle, in the event the driver steps on the accelerator instead of the brake. The City-Brake Active System will control engine output to restrain the vehicle from moving forward if there is anything within four meters of the sensor.
Honda of Pasadena is housed under the global Honda slogan of safety for everyone, continuing to advance its commitment to customers for safety behind the wheel. While we cannot make LA roads accident-free, we can make you safer in your vehicle and reduce fender benders.
Honda of Pasadena
1965 Foothill Blvd.
Pasadena, CA 91107
626-400-6475