This Memorial Day weekend trade your keys for the keys of a brand new Honda from Honda of Pasadena.  It's our big Memorial Day tent sale, be sure to join us Sunday and Monday from 11 a.m. to 3:30 p.m. for free barbecue and refreshments.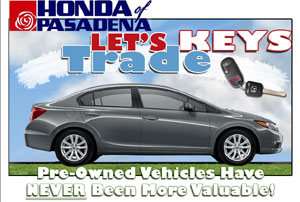 Right now because of current market conditions Honda of Pasadena has a huge need for quality used vehicles.  With such high demand for pre-owned cars, trucks, minivans, crossovers and SUVs your trade-in has never been worth more.  Honda is offering great incentives on leases and purchases of new and certified pre-owned Honda vehicles.  Honda of Pasadena wants to trade keys with you so you can drive a brand-new car this weekend.  With a great selection of new Honda vehicles we invite you to enjoy some free barbecue and kick a few tires here at Honda of Pasadena.
Memorial Day is a time to remember the fallen heroes that have paid the ultimate price for serving our country.  Because this great holiday brings together families and friends we invite you to become part of the Honda of Pasadena family. Stop by and join us for some free food and refreshments on Sunday and Monday.  Even if you're not looking for a new car right now, we still would love to meet you.  It's always been our goal to be known as the friendly neighborhood Honda professionals.  So come on and experience a tent sale like never before and let's trade keys!