Joe LoCicero is now known to many throughout the country as "Million Mile Joe." Why? Well, in 1996 Joe purchased a used 1990 Honda Accord with 74,000 miles on it. Through the years Joe has kept a meticulous record of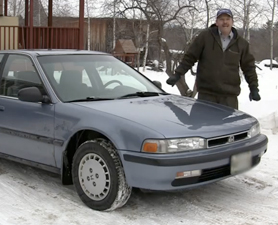 maintenance on his Honda and it has paid off, by rewarding him by making him the first person to drive a Honda Accord 1 million miles.
Honda has rewarded Mr. Locicero with a brand new Honda Accord of virually the same color and Joe plans to continue with his maintenance routine with his new Honda.
Honda automobiles are known for their reliability and efficiency. But even hard core Honda fanatics are amazed to hear that someone has actually driven a Honda Accord 1 million miles. There are thousands of people out there who can tell you that they have gotten 2 or three hundred thousand miles out of their Honda, but a million! The only way to describe it is simply impressive.
Mr. LoCicero should be tremendously proud of himself and the care that he took of his car as other than some minor cosmetic replacements (seatbelts, etc.) he has never had to replace the engine or transmission due to his good maintenance habits. We should all take a lesson from him on how to extend the lives of our cars.
Brought to you by Honda of Pasadena. This goes to show you if you keep your maintenance up on your Honda, you can just about drive it for ever.
Read more: Article from the Washington Post