Superior Service from Honda of Pasadena Service Center
Do you drive a Honda vehicle? Have you experienced the sub-par Honda service offered by generic repair shops in Pasadena? Are you ready for something truly different? If so, stop by Honda of Pasadena and let the experienced, professional and knowledgeable Honda Certified service techs repair or inspect your car. We are 100 percent confident that once you experience this quality customer service, selection of Honda OEM parts and sheer knowledge of the staff, you will never go anywhere else.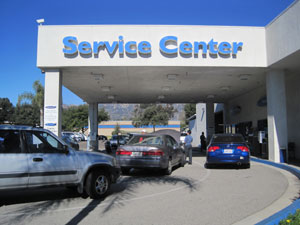 Honda of Pasadena is dedicated to offering superior Honda repair services in Pasadena, as well as all surrounding areas. We offer genuine Honda parts and provide reliable repair services. Next time you hear a bump, bang or rattle, turn to the Honda of Pasadena service center for your vehicle. However, these professionals also offer much more than service. You can receive maintenance on your transmission before it becomes a big problem, which could save you a significant amount of money in the long run.
Not only can you have confidence that you are receiving the best Honda service, your vehicle will also be tested and checked using the latest and most innovative technology and testing equipment that is available. This makes a huge difference when considering the problems it can head-off before they get bigger.
Another reason to use the service center at Honda Pasadena is because we offer a Cost to Cost Honda warranty on repairs. You can also find a number of discounts listed on our website, www.hondaofpasadena.com, at any given time, helping you to save even more.
If you are ready to experience the difference that quality service for your Honda vehicle has to offer, visit the service center of Honda of Pasadena today to receive preventative maintenance, repair services and help to find your next Honda brand vehicle.
Honda of Pasadena
1965 Foothill Blvd.
Pasadena, CA 91107
626-400-6475