Keeping your car looking new and fresh makes your vehicle more pleasurable to drive and will help keep the resell value high. Honda of Pasadena would like to provide you with a few tips on keeping your cloth seats clean and stain free. Below you will find some advice on how to remove different types of stains from your vehicle's interior.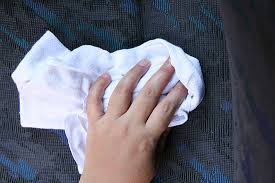 Getting Stains Out of Car Seats
Cloth car seats sometimes feel better than leather or vinyl, but stains won't simply wipe off. To clean these, you will have to do a little extra work, and sometimes you will need to use stain-specific products.
Supplies You Will Need
You will need at minimum a vacuum cleaner with a brush attachment, clean white cloths, upholstery cleaner, liquid dishwashing detergent, rubbing alcohol and vinegar. If you can get a hold of a steam cleaner, that will be helpful and will clean the seat more thoroughly. However, you can still remove stains without using one.
Vacuum the seat with your vacuum cleaner before doing anything else. Using the brush attachment will help you loosen embedded soil.
Oily Stains
Oily stains on car seats can come from many sources such as food, suntan oils and auto grease. For these you need a cleaner that cuts through grease. Liquid dish detergent is meant for that and works well. Add a drop or two to a wet cloth and gently mix it into the stain. Scrub with another wet cloth to rinse the stain and detergent away.
Mold and Mildew
Bleach discolors fabric. White vinegar kills mold and is a safer choice. You should still do a spot check for color-fastness, however. Rub it, undiluted, it over the stain.
Ink-Based Stains
Ink-based stains can come from felt tip markers or pens. These are difficult to remove using standard cleaners. Instead, soak a white cloth with rubbing alcohol and dab the ink stain to soak up the ink. Rubbing alcohol is a mild solvent. If the rubbing alcohol does not work, use WD-40. However, if you use WD-40 you will need to clean the area afterward with a mild detergent and water solution to remove it.
All other stains should be treated with auto upholstery cleaner.
Steam Cleaning
If you have access to a steam cleaner, go through the steps already mentioned to remove stains. Then, follow up by cleaning with the steam cleaner.
Honda Pasadena is a full-service Southern California Honda dealership, Honda shoppers come from all over orange County, Los Angeles, Glendale, Santa Clarita, and Ventura to select from our huge inventory of new and certified pre-owned Honda vehicles. If you haven't stopped by our showroom we invite you to visit us and talk with one of our helpful Honda professionals.
Honda of Pasadena
1965 E. Foothill Blvd.
Pasadena, CA 91107
626-683-5888