Advantages of Purchasing a Used Vehicle from Honda of Pasadena
Honda of Pasadena makes purchasing a used vehicle not only easy, but extremely appealing. The large selection of high-quality, hand-picked used vehicles, makes the selection vast, ensuring that you can find the vehicle that you want.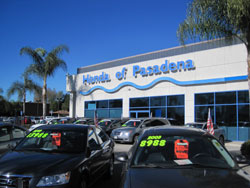 Honda of Pasadena takes time to inspect and approve each used car that is offered, which ensures that each consumer receives a vehicle that will last for many years providing reliable service. You never have to worry that you will be sold a "lemon" since the certified Honda technicians ensure that each vehicle meets their stringent standards.
If you would like to browse the selection of used vehicles that are available right now at Honda of Pasadena, visit HondaofPasadena.com and select the used car option. Here you can browse the current inventory and likely find the vehicle you are looking for. However, if it is currently not available, new vehicles are added each day, which means that you should stop by often.
Honda of Pasadena has a wide selection of used cars for Pasadena, each offering high-quality standards ensuring you purchase a vehicle that will last.
Honda of Pasadena|
1965 Foothill Blvd.
Pasadena, CA 91107
626-400-6475